Barchan Landforms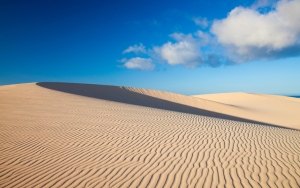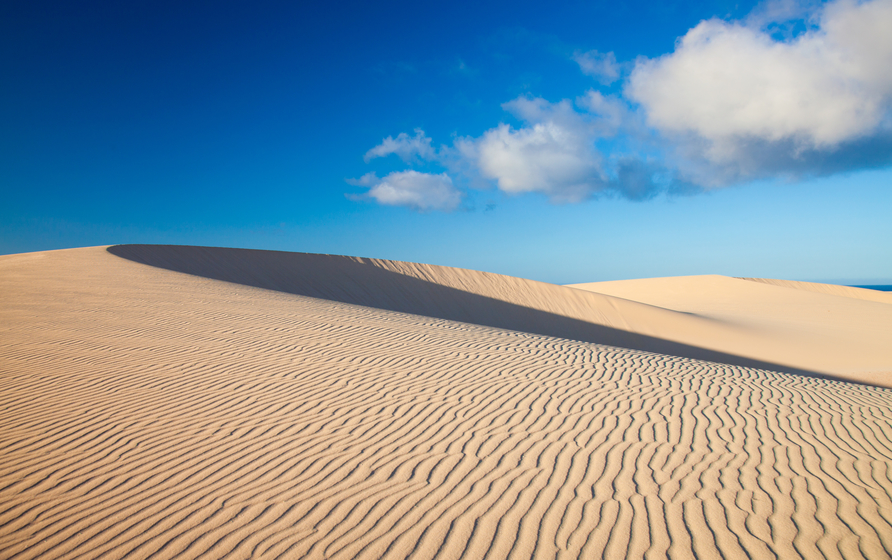 Barchan Dunes have 3 main characteristics
Crescent shape like a quarter moon
Formed of desert sand
Always faces the wind
Examples of a Barchan
Grand Erg Oriental, Sahara Desert
Great Sand Dune National Park, Southern Colorado
Nebraska Sand Hills, Nebraska
Indiana Dunes National Lakeshore, Lake Michigan
What are Barchan Landforms?
A barchan dune is also sometimes referred to as a crescentic dune, is a U-shaped type of sand dune that consists of horns or tips that point downwind or against the wind. Sand supply is abundant where barchans occur along with a hard ground and a constant wind direction. Barchans can usually be found around shrubs and larger rocks as these act as anchors to hold the central area of the dune in place whereas the tips are blown away by the wind.  Some barchan dunes can be over 100 feet high!  Good luck climbing that from the steeper sloped side.  The word Barchan comes from Russian word "Barkhan"
 How is a Barchan formed?
A barchan dune can form when a lot of sand is present in the desert. A steady wind from one direction is needed. The face of a barchan is very steep. As sand escapes over the top of the dune, it forms a trailing wall that is not steep, extending further backward and meeting the desert floor. The trailing wall has a rounded shape from the ends on either side toward the middle, like the form of a crescent moon when it is one quarter full. If there is a substantial change in wind direction, the crescent form can be destroyed.
Where Can a Barchan be Found?
Barchans dunes can be found in deserts around the world where sand dunes occur. The most famous of these are the Sahara desert in Egypt and the Gobi desert in Asia. Photos taken by orbiting spacecraft have revealed barchan dunes on the surface of Mars, created by strong winds.
How Large is a Barchan?
A barchan dune can be from 30 feet to over 100 feet high. A large barchan can be over 1200 feet wide.
Parts of a Barchan Sand Dune
A barchans has a windward slope, crest and slipface
Famous Barchans
White Sand Dunes, National Monument, New Mexico
A Barchan Can Move
 A barchan dune will migrate with the wind. As sand escapes over the top, a barchan slowly moves backward. Sand on the face moves to the trailing wall behind. The speed of a barchan's movement can be very slow, traveling perhaps 50 feet in a year's time. Smaller barchans can migrate more quickly. A large barchan may move only a few feet each year.
When 2 or more barchans meet, they can form compound barchan dunes with varied shapes in the desert.
Definition of a Barchan
A barchan dune is a crescent-shaped sand dune that faces the wind and is convex in shape formed by the constant blow of wind in one direction.