Barrier Island Landforms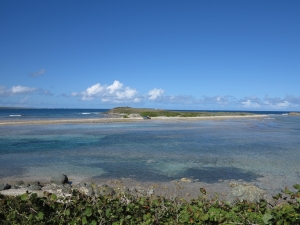 Barrier Islands have 4 main characteristics
Long, narrow and generally straight
Close to the mainland
Parallel to the mainland shore
Examples of Barrier Islands
The Mississippi-Alabama barrier islands
Outer barrier in Long Island
Hatteras Island, North Carolina
What are Barrier Islands?
A barrier island is a sandbar that has grown to become an island. It is long and generally straight and narrow and parallel to the mainland shore. The name refers the the protective nature of the island, shielding the mainland from strong waves.
How are Barrier Islands Formed?
A sandbar can grow in size when there is strong storm activity and wave action. As it grows, vegetation can help a sandbar to become more permanent. Topsoil is generated as plants decay. Animal life contributes by providing manure as fertilizer to enrich the soil and increase plant growth. In this way, a sandbar can become a barrier island. The way in which waves and storms can create a barrier island is not fully understood. Some scientists say there may be several different processes that can create a barrier island.
Barrier Islands are a Beneficial Landform
Barrier islands can occur in chains along the coast, with inlet channels between them that provide water access to the mainland shore. They can be extremely beneficial as protection for the mainland. This protection also helps to create lagoons, marshes and other wetland areas along the mainland shore. These wetlands provide a home for a great variety of marine vegetation, fish and other sea life. They also attract many bird species and other wildlife.
Famous Barrier Islands
Great Barrier Island, Hauraki Gulf, New Zealand
Louisiana barrier islands
Hatteras Island, North Carolina
Padre Island, Texas
Hatteras Island lies in the Outer Banks off the North Carolina Coast. Unlike many barrier islands, It has a curved portion, generally following the shape of the broken shoreline on the mainland. Hatteras Island is 50 miles long and one of the longest barrier islands in the US.  It is a popular tourist destination with seaside communities and many undeveloped beaches and wilderness to explore.
Padre Island is the longest barrier island in the world, and lies off the coast of mainland Texas in the Gulf of Mexico. It is 113 miles long and an average of 1.6 miles wide.
Discovered in 2011 by 2 researchers using satellite imagery, the longest chain of barrier islands in the world exists close to the mainland coast of equatorial Brazil, beginning near the mouth of the Amazon River. In fact, the satellite survey increased the number of known barrier islands in the world by more than 650 in many areas that were poorly surveyed in the past.
Related: Archipelago and Sandar
Definition of barrier islands
A barrier island is an island that is long, straight, narrow island that lies parallel and close to the mainland shore.