Bayou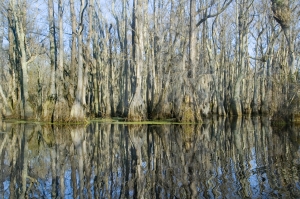 Bayou Landforms Have 3 Main Characteristics:
Slow moving body of water
Low elevation
Swamp-like in some shoreline areas
Example of a Bayou Landform:
Bayou Bartholomew, Louisiana and Arkansas, USA
What is a Bayou Landform?
A bayou is a slow moving river or stream that may have swamp or marsh-like areas along some parts of the shoreline. Bayous usually exist in low lying areas close to the ocean. Tides may cause water flow to stop or reverse direction and the water can be brackish, a mixture of freshwater and seawater.
How are Bayous Formed?
Bayous can be created in low lying areas where there is substantial rainfall. They are more common near the coastline where high tides cause a back flow into rivers and streams.
Where Can a Bayou be Found?
The southeastern US along the gulf coast is famous for having many bayous, particularly in the "Bayou Country" of Louisiana and southeastern Texas. Before the 20th century, bayous were relied upon as a major form of transportation in this region.
Plant and Animal Life in a Bayou
The brackish, slowing moving water of a bayou encourages the growth of a great variety of plant life and many varieties of fish and other aquatic life. Crawfish, shrimp, wading birds and alligators can all be found in bayous of the gulf coast in the southeastern US.
Famous Bayous
 Buffalo Bayou, Texas
 Bayou Bartholomew, Louisiana and Arkansas
Buffalo Bayou lies near Houston, Texas and receives drainage from the city during thunderstorms. A bayou can be less than a mile long, or extend for hundreds of miles. The longest bayou in the world is Bayou Bartholomew which flows 375 miles through Arkansas and Louisiana to the gulf coast. This was a major transportation route prior to the construction of railroad lines in the region.
Bayou Country
The gulf coast region is the home of Native Americans of several different tribes, including the Choctaw and the United Houma Nation. Bayou Country is famous for Cajun and Creole cultures established in the region. Cajun people emigrated to Bayou Country from French speaking portions of southeastern Canada. Creole originally referred to people of European descent who lived in Louisiana when it was a French colony, and later included people of mixed background, including Native American and African ancestry.
Bayou Definition:
A slow moving body of water in a low lying area, usually near the coast, with swamp or marshland in some portions of the shoreline.
Related: Swamp