Beach Ridge Landforms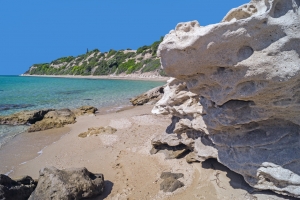 Beach Ridge Landforms Have 3 Main Characteristics:
An elevated ridge of sand or other beach material
Runs parallel to the shoreline
Formed by wave action
Example of a Beach Ridge Landform:
Beach in Halkidiki Peninsula, Greece
What is a Beach Ridge Landform?
A beach ridge is a elevated ridge along the beach that consists of sand or other beach material. It is generally straight and parallel with the shoreline.
How are Beach Ridges Formed?
Wave action can form a ridge near the upper reach of wave movement, waves deposit sand and other material at this height. When the water level drops, a ridge often remains. More than one ridge may be formed, taking place at different times. Tides and wave height determine the height of beach ridge formation.
Where Can a Beach Ridge Be Found?
Any body of water can form a beach ridge if waves are present and moving toward the shoreline.
How large is a Beach Ridge?
A beach ridge can be a few inches high or rise to several feet or more, depending on the beach material and the size of the waves during formation.
What is a Runnel?
Behind one beach ridge, there may be a higher ridge running parallel to the first, formed when wave height was higher. A depression called a runnel is often found between two ridges. Sand blown by the wind can sometimes fill a runnel when the water level is low to give the beach a smooth form.
A Beach Ridge Can Become a Permanent Form
If the water level drops permanently, or there is an uplift of the land, a beach ridge can become a more permanent form. Plant growth can help to protect the ridge from erosion. On some storm swept coasts, these formations can be large.
Beach Ridge definition:
A elevated formation of sand or other beach material running parallel to the shoreline
Related to Beach Ridge: Beach