Beach Landforms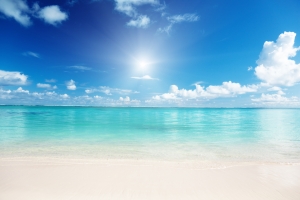 Beach Landforms Have 3 Main Characteristics:
The shoreline of a body of water
Contains sand, gravel, or other sediment
Shallow slope
Example of a Beach Landform:
Santa Monica Beach, California, USA
What is a Beach Landform?
A beach is a shoreline formation that meets a body of water and contains sand, gravel, soil or other sediment. It has a shallow slope and can generally be walked upon without much difficulty. A beach may also contain particles or sediment from seashells and other sea life.
How are Beaches Formed?
Wave action causes the wearing of stones and other material, reducing them in size until they become grains of sand. As the size and weight of particles are reduced, the rate of wearing slows down. Particles of sand can exist for long periods of time before turning to dust or sediment. In some cases, beaches contain soil or other sediment that was formed by another process when it was not a shoreline. Wave action shapes the material into a slope along the shore. Artificial beaches are also created to provide recreational areas for local people and tourists. Sand may be transported to the area from another location.
Where Can Beaches Be Found?
A beach may be found on the shoreline of an ocean, sea, lake, river or stream.
Famous Beaches
 Malibu Beach, California, USA
 Miami Beach, Florida, USA
 Waikiki Beach, Hawaii, USA
 Santa Monica Beach, California, USA
 Weymouth Beach, UK
 Dorset Sands, UK
 Lido De Jesolo, Italy
 Saint Tropez Beach, Monaco
 Sunny Beach and Golden Sands, Black Sea Coast, Bulgaria
Beaches are one of the most popular locations for summer recreation, the most famous being ocean beaches in many locations around the world. One of the most popular activities at some beach areas is surfing. The beaches of Hawaii and Malibu Beach are very popular surfing spots. Other popular activities include swimming, recreational fishing, wind-surfing and para-gliding.
Beach definition:
A shallow sloping shoreline consisting of sand, gravel, soil or other sediment
Other landforms that releate to beaches: beach cusps, beach ridge, raised beach