Bight Landforms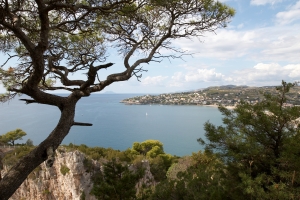 Bight Landforms Have 2 Main Characteristics:
A partial bay or curve in the shoreline
By an ocean or large body of water
Example of a Bight Landform:
Great Australian Bight, southern coast of Australia
What is a Bight Landform?
A bight is a bay or curve in the shoreline that generally has less than a 25 degree angle from the center of the curve toward either end when measured from the shoreline. The term is most used among sailors.
How large is a Bight?
A bight can be as large or as small as an ordinary bay, but the curvature is less.
Famous Bights
 New York Bight
 Mid-Atlantic Bight
 Santa Monica Bay
 Southern California Bight
 Great Australian Bight
 The Bight of Benin
The upper coastline of New Jersey and the southern shore of Long Island to its eastern tip form what is known as the New York bight. The point where the Hudson River enters the Atlantic Ocean is also where Long Island and New Jersey meet, at nearly a 90 degree angle close to New York City. During a major storm or hurricane, this leaves no escape for waters building during a storm surge and can flood large portions of the City. 30 foot storm surges were experienced here during the hurricane of 1893. The New York Bight is part of the greater Mid-Atlantic Bight that extends from Massachusetts to North Carolina along the eastern US coast.
A bight on the southern California coast known as Santa Monica Bay includes the beaches of Santa Monica and Malibu Beach. The Southern California Bight begins further south and extends downward to San Diego. This area receives water from several different Pacific Ocean currents that meet, bringing a great variety of fish and other sea life.
The Great Australian Bight extends along much of the southern Australian coastline. The coast has a desert climate with cliffs overlooking the ocean from a height of up to 200 feet.
On the western coast of Africa is the Bight of Benin, reaching 400 miles eastward to the Niger River. The Bight of Benin was named after the Benin Empire of the region and was also called the Slave Coast. It was known for slave trade that took place there long before European powers came to exploit it. After the arrival of the Europeans, slave trade increased greatly and became a global market with the colonization of North and South America.
Bight definition:
A bay or curve in the shoreline that has less curvature than an ordinary bay