Bluff Landforms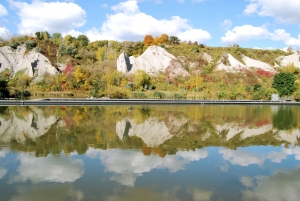 Bluff Landforms Have 2 Main Characteristics:
Steep cliff
Overlooks a plain or body of water
Example of a Bluff Landform:
Grandad Bluff, La Crosse, Wisconsin
The bluff picture is of Scarborough Bluffs Park in Toronto, Ontario Canada.
What is a Bluff Landform?
A bluff is a steep cliff overlooking a plain or body of water, It may be composed of beach sand, or soil or a rock formation.
How are Bluffs Formed?
A river, ocean or other body of water can create a bluff when waves erode the river bank or shoreline.This often happens at the bend of a river where water is pushed against the outside bank, causing erosion. On an ocean shoreline, storms may create a high beach ridge. Changing water levels or an uplift in the land can leave a ridge high and dry. The growth of vegetation can protect the formation from erosion.
Where Can a Bluff Be Found?
Bluffs often can be found overlooking a body of water. A bluff can also be found overlooking a plain that was covered by a body of water sometime in the past, or a plain that has experienced flooding.
Famous Bluffs
 Grandad Bluff, La Crosse, Wisconsin
 Como Bluff, Wyoming
 Gosse's Bluff, Northern Territory, Australia
In the western Wisconsin city of La Crosse, Grandad Bluff overlooks the land from a height of 590 feet. A park sits on top of the bluff from which the city of La Crosse can be viewed, as well as the Mississippi River and Minnesota on the opposite shore. Grandad Bluff is also a mesa, because it is flat on top and elevated above the surrounding land. Other bluffs also exist along the Mississippi River in this region.
Como Bluff in Wyoming near the town of Medicine Bow is an exception, formed not from water but by geological stress that created folding of the land. A steep ridge was created that overlooks the land below. At various locations along Como Bluff in the 19th century, fossilized bones of dinosaurs and and other animals were found. Gosse's bluff in the southern part of Northern Territory,
Australia is actually a formation of several bluffs that give the appearance of a crater. Evidence indicates that remnants of a 3 mile crater exists there and may have been created by a comet impact approximately 140 million years ago.
Bluff definition:
A steep cliff that overlooks a plain or a river, sea or other body of water