Crevasse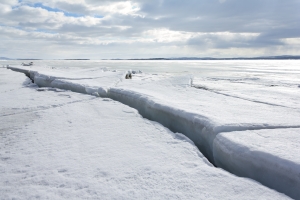 Crevasse Landforms Have 2 Main Characteristics:
Large crack in a glacier or ice sheet
Begins at the surface
Example of a Crevasse Landform:
The crevasse picture was taken in Antartica.
What is a Crevasse Landform?
A crevasse is a large crack that can be found in a glacier or an ice sheet. A crevasse can be shallow or very deep. A crevasse is sometimes confused with the word "crevice", which is a similar formation in rock.
How are Crevasses Formed?
A crevasse most often forms as a glacier passes over a steeper incline. This causes more stress at the surface of the glacier until is separates, forming a crevasse. A crevasse can also form where a valley widens, causing the glacier to spread. This can also open up a crevasse on the surface. As a glacier passes a cliff or ridge, friction can cause stress and create a crevasse.
How Large is a Crevasse?
The depth of a crevasse can reach 150 feet, and as far as 65 feet across at the surface.
Where Can a Crevasse Be Found?
Glaciers can be found in high mountain valleys where crevasses form as glaciers move. In the far north, glaciers can exist close to sea level and form crevasses as they move. Crevasses usually form very slowly and can be covered by falling snow. As it grows, a crevasse can be hidden below a snow bridge that covers the opening. This may collapse underfoot and a person can fall into the crevasse below.
People Who Have Fallen into a Crevasse
 Mark Taylor, Yoho National Park, British Columbia
 Namgya Tshering Sherpa, Mount Everest
 Joe Simpson, Siula Grande, Andes Mountains, Peru
Mark Taylor was the general manager of parks when he fell down into a crevasse at the Yoho National Park while skiing on March 12, 2013. His 2 companions took shelter in a snow cave and were rescued 2 days later. Taylor's body was recovered from the crevasse a week later by rescue personnel, delayed due to heavy snowfall and dangerous conditions.
A 30 year old Nepali guide named Namgya Tshering fell 150 feet into a crevasse on Mount Everest in 2012. He was an experienced sherpa and had climbed to about 2/3 of the way to the summit. He fell while crossing a crevasse over an aluminum ladder used to bridge the gap. He apparently failed to connect his harness to the safety line before crossing.
Joe Simpson had just reached the top of Siula Grande in the Andes Mountains of Peru with his friend Simon Yates, when an ice cliff shattered during his descent. He fell 15 feet and broke his leg and ankle. He and his friend lowered each other down the cliff, until Simon had no choice but to cut the rope in order to survive. Joe fell down into a large crevasse, but summoned the courage to climb out after many hours of effort.
During the next 5 days he climbed and crawled down the mountain to base camp. He was suffering badly from hypothermia, starvation and lack of water when he met Simon, who had reached base camp earlier.
Crevasse definition:
A large crack in a glacier or ice sheet