Dell Landforms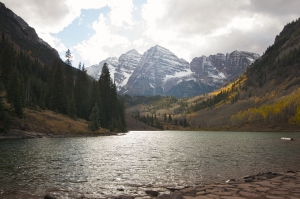 Dell Landforms Have 2 Main Characteristics:
Small valley
Has trees
Example of a Dell Landform:
Fern Dell of Griffith Park, Los Angeles, California, USA
The dell picture above is of  Maroon Bells and Maroon Lake in Aspen Colorado
What is a Dell Landform?
A dell is a small valley with trees, often as part of a forest. It may also have a small stream running through it.
How are Dells Formed?
Dells are usually formed by the action of a river, stream or flooding in the past.
How Large is a Dell?
A dell is usually less than 500 feet between hill crests on either side.
Where Can a Dell Be Found?
A dell can be found in a forest that has one or more small valleys.
Famous Dells
• Fern Dell of Griffith Park, Los Angeles, California, USA
• Cozy Dell Trail, Ventura County, California
• Shepperd痴 Dell, Western Gorge, Oregon
• Warwoman Dell, Becky Branch Falls Park, Rabun County, Georgia, USA
Fern Dell in Los Angeles later became a part of well known Griffith Park. Many ferns have been prepared by a volunteer organization of Griffith Park who help to maintain the beauty of the park. Fern Dell has over 50 fern species as well as a number of flowers and tropical plants and shady sycamore trees.
Cozy Dell Trail trail passes through wooded and flowery dells in an area close to ?Ojai, California in Ventura County. Shepperd Dell in Western Gorge, Oregon is in the Columbia River Gorge close to the Columbia River Highway that follows the river. A bridge crosses over the wooded dell on the way to Shepperd Dell Falls located among many trees surrounding the area.
Warwoman Dell is a part of Becky Branch Falls Park in Rabun Country, Georgia. It is debated whether the name refers to Nancy Ward of the Cherokee Nation, whose word was required before chiefs of the Cherokee could go to war, or Nancy Hart, who may have fought in the Revolutionary War at the Battle of Kettle Creek with her sons and husband. The dell has a variety of hardwood trees on the trail to Becky Branch falls.
Dell Definition:
A small wooded valley