Dune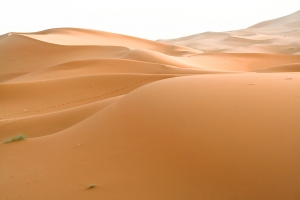 Dune Landforms Have 2 Main Characteristics:
A sand formation
Formed by winds
Example of a Dune Landform:
Star Dune, Great Sand Dunes National Park, Colorado, USA
The sand dune picture above is of a Moroccan desert.
What is a Dune Landform?
A dune is a hill composed of sand, formed by the wind. Dunes can also form underwater by the action of waves and currents.
How are Dunes Formed?
Strong winds can pick up sand and move it over the surface. More sand may be trapped as the wind strikes the face of a sand hill. This can grow into a sand dune, if wind conditions remain the same. Changing wind patterns can alter sand formations created by the wind. This can destroy a dune or change its shape.
How Large is a Dune?
A dune can range from a few feet in height to hundreds of feet tall. In parts of the Sahara desert, long dunes have formed measuring up to 1000 feet high and 190 miles long. Star-shaped dunes in the southeast Badain Jaran Desert in China reach up to 1600 feet high.
Where Can a Dune Be Found?
Dunes can be found near many ocean shorelines. The largest dune fields are usually found inland, away from a coast.
Famous Dunes
• Star Dune, Great Sand Dunes National Park, Colorado, USA
• Isaouane-n-Tifernine Sand Sea, Sahara Desert, Algeria
• Cerro Blanco, Nasca Valley, Ica, Peru
• Duna Federico Kirbus, Fiambalá, Catamarca Province, Argentina
• Great Kobuk Sand Dunes, Kobuk Valley National Park, Alaska, USA
Star Dune at the Great Sand Dunes National Park in Colorado is the tallest dune in North America, standing 750 feet high and almost 9000 feet above sea level. The tallest sand dunes in Africa are found at the Isaouane-n-Tifernine Sand Sea in the Sahara Desert in Algeria and stand up to 1400 feet high.
Cerro Blanco is the second tallest dune in the world at 3,860 feet in the Nasca Valley of Peru. The tallest dune in the world is the Duna Federico Kirbus in the Catamarca Province of Argentina and is 4035 feet high. The Great Kobuk Sand Dunes of the Kobuk Valley National Park of northwestern Alaska lie farther north than any other sand dunes in the world.
Dune definition:
A sand formation created by wind.
Related to sand dunes: Barchan
A large group of dunes is a called an Erg.