Fjord Landforms Have 3 Main Characteristics: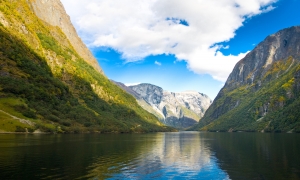 A long, narrow inlet
Steep rock formations on each side
Formed by glacier movement
Example of a Fjord Landform:
Sognefjord, Norway
The Fjord picture above is from Norway.
What is a Fjord Landform?
A fjord is an inlet that is long and narrow in shape, with steep cliffs or other steep rock formations on each side.
How are Fjords Formed?
A fjord is formed by the movement of a glacier that cuts rock formations, forming steep ridges or cliffs on each side of a valley. The valley fills with water from a nearby ocean or sea, leaving steep rock formations above water on either side.
How Large is a Fjord?
A fjord can be the size of a narrow valley, or a much larger valley that has filled with water. The largest fjord in the world, Scoresby Sund of Greenland, is 18 miles wide at its mouth.
Where Can a Fjord Be Found?
Fjords can be found along many coastlines that had glacier movements in the past. This includes the coasts of Alaska, British Columbia, Greenland, Norway and parts of Chile and New Zealand.
Famous Fjords
• Sognefjord, Norway
• Milford Sound, South Island, New Zealand
• Scoresby Sund, Greenland
Sognefjord on the Norwegian coast is the third longest fjord in the world. It is 127 miles long and over 4,000 feet deep at its deepest point. Cliffs overlooking the fjord reach over 3300 feet high in some places.
In the South Island of New Zealand, Milford Sound is actually a fjord, located in Fjordland National Park of the Piopiotahi Marine Reserve. Vertical cliffs that rise above the water to almost 4000 feet on each side, as well as other fantastic formations, make this a very popular tourist destination.
The area receives an average of 268 inches of rain each year, often forming dozens of additional waterfalls that cascade downward. Scoresby Sund on the eastern coast of Greenland is the largest fjord formation in the world with multiple branches that extend up to 220 miles inland, and a steep wall that reaches above 6000 feet near the mouth where it meets the Greenland Sea.
Fjord definition:
A long, narrow inlet with steep rock formations on each side
The Most Beautiful Landform in the World: Norwegian fjord
We received a lot of pictures of what people said to be the most beautiful landform in the world.  Out of all the pictures, we chose this one.