Geo Landforms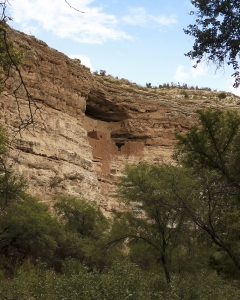 Geo Landforms Have 2 Main Characteristics:
A narrow inlet or gully in a cliff face
Formed by wave action or glacier activity and erosion
Example of a Geo Landform:
The geo picture above is of Montezuma Castle National Monument, Arizona, USA
What is a Geo Landform?
A geo is an inward portion of a cliff face in the form of an narrow inlet or gully.
How are Geos Formed?
A geo is formed by the action of waves eroding the lower portion of a cliff. A depression or sea cave may form. The cliff face above the cave can erode and collapse over a period of time, creating a geo or extending the geo deeper into the cliff. Glacier movements can also cut depressions in steep rock formations that may erode to form a geo.
How Large is a Geo?
A geo can be from a few feet wide to several hundred feet in width.
Where Can a Geo Be Found?
Cliffs that meet the ocean or other large body of water usually have geo formations. Inland cliffs may also have geo formations that were created by wave action from a former body of water or a combination of glacier activity and erosion.
Famous Cliffs with Geo Landforms:
• Montezuma Castle National Monument, Arizona
• Ronda, Málaga Province, Spain
• Bunda Cliffs of the south Australian coast
The Sinagua people, a Native American Tribe of what is now Arizona, built a large cliff dwelling having 5 levels and 20 rooms. It can be seen within a geo formation that is now a national monument. The Montezuma Castle National Monument was mis-named, as the dwelling was built before Montezuma of the Aztec Nation was born by a different nation of people.
At the edge of vertical cliffs over 330 feet high, the city of Ronda overlooks the El Tajo Canyon in a mountainous region of the Spanish province of Málaga. The Guadalevín River runs through the canyon which divides the city in half.
The Bunda Cliffs on the south coast of Australia are part of the longest line of cliff formations in the world that extend for 120 miles and are more than 300 feet high in some areas. The Cliffs of Moher stand from 400 to 700 feet high on the coast of Ireland and receive thousands of visitors daily as the country's most popular tourist destination.
Geo definition:
A narrow portion of a cliff face in the form of an inlet or gully.