Graben Landforms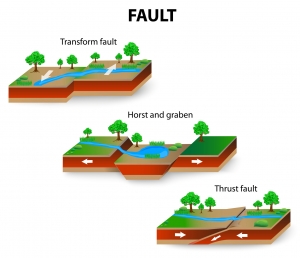 Graben Landforms Have 3 Main Characteristics:
1. A depression in an area of land
2. Two or more faults around it
3. Past movement of other land masses away from the area
Example of a Graben Landform:
Lake Tahoe, Nevada, USA
The graben picture above is a fault diagram.
What is a Graben Landform?
A graben is a depression in a portion of land with two parallel faults, one on each side. The land drops in elevation as the outer land masses on each side separate. A graben can also have more than 2 faults surrounding it that may not be parallel.
How are Grabens Formed?
A graben is formed in a fault zone. In place of a single fault, 2 parallel faults may form running side by side with a portion of land between. There can be geological forces that want to separate the land masses on each side, causing the land between faults to drop.
How Large is a Graben?
A graben can be small, only a few hundred feet in width. Larger graben formations can also be created. A graben in southern Japan at the Mount Unzen volcanic area has dropped more than 3300 feet, more than almost any other known graben formation. The East African Rift includes all or part of 9 different countries where a drop in elevation has occured.
Where Can a Graben Be Found?
A graben may be present where the land is unstable. There may be a depression in the land surrounded by faults in the Earth's crust and shifting of land masses that occurred in the past.
Famous Grabens
• Lake Tahoe, Nevada, USA
• Upper Rhine Plain, Germany and France
• East African Rift
Three faults surround Lake Tahoe with movement of the crusts that helped to build the mountains that surround it. Lake Tahoe was created by downward movement of the land below it, forming a graben. Glaciers carved the lake into its present form. The upper Rhine Plain in Germany and a portion of France is over 200 miles long and 30 miles wide, with faults surrounding it, created during the formation of the Alps. The lateral motion created a rift and caused the plain to drop in elevation during movement at the fault zones. The East African Rift is a very large portion of East Africa with major faults surrounding a rift zone. The African continental plate is slowly splitting and is estimated to separate within 10 million years. The rift zone extends from Ethiopia to Mozambique and includes 7 other countries in East Africa. The area has dropped in elevation as movement eastward occurs at 6 to 7 millimeters each year.
Graben definition:
A portion of land between 2 or more faults and a drop in elevation as the land masses on each side separate