Gully Landforms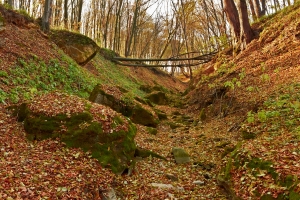 Gully Landforms Have 2 Main Characteristics:
A channel cut into a hillside or mountainside
Formed by running water
Example of a Gully Landform:
Waterfall Gully, Cleland Conservation Park, Adelaide, South Australia
The gully picture above is taken during the fall season.
What is a Gully Landform?
A gully is a channel cut into the soil, usually in a hillside, formed by running water. It can be in the form of a ditch or a small valley.
How are Gullies Formed?
Spring runoff or a former stream on a hillside or mountainside can form a gully. A lack of vegetation allows the soil to erode more easily. Artificial gullies are also formed during some mining operations when large amounts of water are used to flush out deposits.
How Large is a Gully?
A gully can be from 5 or 6 feet in width and depth, up to a couple hundred feet or more.
Where Can a Gully Be Found?
A gully can be found on hillsides or mountainsides where spring runoff may carve channels into the soil.
Famous Gullies
• Waterfall Gully, Cleland Conservation Park, Adelaide, South Australia
• Airplane Gully near Mount Navajo, Colorado
• Fern Gully, Ocho Rios, Jamaica
Three miles from the center of the capital city of Adelaide in South Australia, Waterfall Gully is a popular scenic area for hiking and tourists as part of Cleland Conservation Park. It has a long gully with a waterfall at one end and more trails for hiking.
Airplane Gully is found at an elevation of more than 11,000 feet in Colorado near the Mountain Peaks of Navajo and Apache and Lake Isabell. The area is particulary beautiful with mountain lakes and wildflowers. However, the gully is not a scenic place, known only for the fact that a light aircraft crashed there sometime in the past.
The wreckage is still there to be seen. Fern Gully of Jamaica is a 3 mile gully with a road running through it, named for the great number of ferns of different varieties that grow there. The road passes through a tunnel of ferns and also has bananas and other species growing in the area.
A small river that ran through the gully stopped flowing after an earthquake. A road was built over the riverbed in 1907 and the gully has become a popular tourist site.
Gully definition:
A channel formed by running water in a hillside or mountainside.