Headland Landforms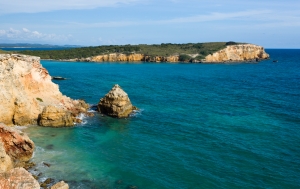 Headland Landforms Have 2 Main Characteristics:
1. Prominent land extending into a large body of water
2. Often a cliff or other elevated landform
Example of a Headland Landform:
Cape Agulhas, Western Cape, South Africa
The headland picture above is from Puerto Rico.
What is a Headland Landform?
A headland is an area of land that extends into a large body of water. It is often a cliff or other elevated landform overlooking a sea or ocean. A large headland may sometimes be called a cape.
How are Headlands Formed?
Wave action can erode some areas of a coastline more quickly where there are sand, soil or soft rock layers, leaving hard rock formations to form headlands and other prominent areas along the coastline. Where a bay is formed, there may be a headland on one side, extending into the body of water.
How Large is a Headland?
A headland may extend a quarter mile out to sea. A headland can also be much larger, forming a cape at one protruding end of an island or a continent.
Where Can a Headland Be Found?
A headland can be found where prominent land extends beyond the main portion of coastline.
Famous Headlands
• Cape Agulhas, Western Cape, South Africa
• Kanyakumari, Tamil Nadu, India
• Cabo da Roca, Portugal
• Land's End, Cornwall, UK
• Cape Horn, Isla Hornos, Chile
Cape Agulhas is the southernmost portion of land on the African continent. The name of its location on the Western Cape is confusing. In addition, Cape Agulhas is often confused with the Cape of Good Hope, thought by many to be the point furthest south on the continent. Kanyakumari is the headland at the southern tip of the subcontinent of India. Three famous monuments are found there. A memorial to Ghandi was built where his ashes were displayed before giving them up to the sea. An offshore rock monument was built in 1970 to honor the 19th century Swami Vivekananda. Another offshore monument was completed in 2000, a 133 foot statue of the poet Thiruvalluvar, a Tamil saint of India. Cabo da Roca, with cliffs rising 330 feet above the ocean, is the headland forming the westernmost part of Portugal and the European continent. Land's End is a headland in Cornwall at the southwestern tip of England, extending far out into the Atlantic from most of the island. A resort has been established in the area for holiday visitors and tourists. Cape Horn is a headland forming the southern tip of South America. It is best known for the difficult westward passage around the cape to the Pacific, particularly by sailing vessels against headwinds and rough seas, strong currents and possible icebergs.
Headland definition:
A portion of land that extends from the mainland into a large body of water.