Hogback Landforms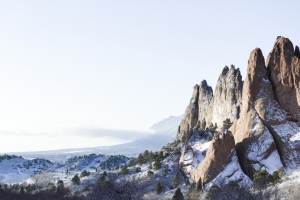 Hogback Landforms Have 2 Main Characteristics:
A line of rock formations above the ground
Exposed by erosion
Example of a Hogback Landform:
Dinosaur Ridge, Jefferson County, Colorado, USA
The hogback picture above is of The Garden of the Gods in Colorado
What is a Hogback Landform?
A hogback is a series of rock formations that are exposed above the ground, usually forming a line of narrow crests or ridges on top with a series of hills or mountains.
How are Hogbacks Formed?
A hogback formation is usually created by erosion of soil and soft rock layers, exposing the upper portions of a line of hard rock formations.
How Large is a Hogback?
A hogback may be less than 100 feet or extend for several miles. A large hogback may be more than one hundred miles in length.
Where Can a Hogback Be Found?
A hogback may be found in mountainous regions and badlands areas of the desert.
Famous Hogbacks
• Dinosaur Ridge, Jefferson County, Colorado, USA
• Dakota Hogback, Wyoming and Colorado, USA
• Black HIlls of Wyoming
• Green Mountain of Wyoming
Dinosaur Ridge is a hogback in Matthews/Winters Park of Jefferson County, Colorado. It was formed of sandstone exposed by the erosion of softer sediments around it. There are dinosaur tracks that can be seen from trails in the area. The hogback is part of the much larger Dakota Hogback that extends from Wyoming to Southern Colorado. Two additional hogbacks can be found in Wyoming that have an unusual circular shape.
The Black Hills were formed by an intrusion of magma from below to form granite, which uplifted the area. A ring of hogbacks was formed around the outside of the uplifted area. A similar formation of hogbacks can be found around Green Mountain, an area that was also uplifted in the same way to form a dome.
Hogback Ridge Park of Madison Township, Ohio can be seen near the Grand River and includes many trails through hardwood forests and the floodplain of the river.
Hogback definition:
A line of rock formations rising from the ground, exposed by erosion