Hoodoo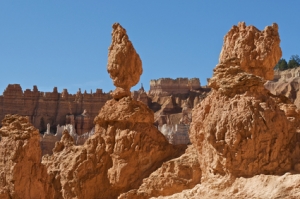 Hoodoo Landforms Have 2 Main Characteristics:
Tall, pillar-shaped rock formation
Irregular form
Example of a Hoodoo Landform:
Thor's Hammer, Bryce Canyon National Park, Colorado, USA
The hoodoo picture is of another hoodoo in Bryce Canyon
What is a Hoodoo Landform?
A hoodoo is a tall, irregularly shaped rock formation. Hoodoos are tall like a pillar or column, but do not maintain the same form from top to bottom. They sometimes take the form of faces, animals or familiar objects.
How are Hoodoos Formed?
Many layers of soft rock such as mudstone and other soft rock material exist in the desert. These layers may be covered by a more durable material such as limestone or hard rock. Wind, rain and freezing temperatures can erode soft rock layers from the side.
Cracks in the top layer can allow water to seep through and divide larger formations by erosion. The last portion to remain may be in the form of a pinnacle or a hoodoo, protected on top by a cap of limestone or hard rock. Eventually erosion will cause this top layer to fall off and the hoodoo will erode more quickly from the top.
How Large is a Hoodoo?
A hoodoo can be smaller than a man, or as high as a 10 story building.
Where Can a Hoodoo Be Found?
Utah has the greatest concentration of hoodoos anywhere in the world at the Bryce Canyon National Park. Hoodoos are common in the high plateau areas of Colorado and can be found in badlands regions of the northern plains states. Other regions around the world that have hoodoos include France, Turkey, Serbia, New Zealand, Taiwan, and Aberta, Canada.
Famous Hoodoos
• Queen's Garden and Thor's Hammer, Bryce Canyon National Park, Colorado, USA
• Putangirua Pinnacles, Aorangi Mountains, New Zealand
• Roque Cinchado, Island of Tenerife, Canary Islands
Bryce Canyon National Park in Colorado is the most well known place for hoodoo formations. In one area of the canyon there is the Queen's Garden that includes a tall hoodoo in the form of a queen sitting on her throne.
Another famous hoodoo of Bryce Canyon is Thor's Hammer, a very large hoodoo with a hammer on top, about 150 feet high. Other popular hoodoos of Bryce Canyon include Toadstool Hoodoo, the Camel's Head and Three Kings. In New Zealand, in a valley of the Aorangi Mountain Range, are a group of hoodoos called the Putangirua Pinnacles.
This area was included in a scene for the film "Lord of the Rings: The Return of the King". In the Canary Islands, the Roque Cinchado is an icon of the Island of Tenerife. As part of the Teide National Park, the rock is a large hoodoo that can be found near Mount Orotava, a volcano on the island.
Hoodoo definition:
A tall rock formation that may be pillar-shaped but irregular in form