Islet Landforms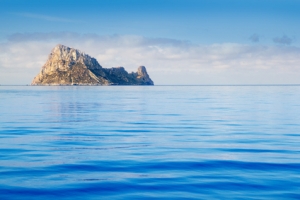 Islet Landforms Have 3 Main Characteristics:
A very small island
Little or no vegetation
Cannot support people living there
Example of an Islet Landform:
Monchique Islet, Azores Islands
What is an Islet Landform?
An islet landform is generally considered to be a rock or small island that has little vegetation and cannot sustain human habitation.
How are Islets Formed?
An islet may be formed by wave action that can build a sandbar. Volcanic activity can also produce a rock formation above the water to create an islet.
How Large is an Islet?
Most islets are only a fraction of one square mile, and are sometimes measured in meters or feet. An islet can be up to several square miles in size. There is no specific rule to determine an islet by size.
Where Can an Islet Be Found?
Islets can be found on oceans, seas and other large bodies of water. Many are near a coastline, while a few are in the middle of an ocean, hundreds of miles from the nearest land.
Famous Islets
• Monchique Islet, Azores Islands
• Fastnet Rock, Cork, Ireland
• South Stack, Anglesey, Wales
• Silver Islet, Ontario, Canada
Monchique Islet is a Portuguese possession that lies off the coast of the Portuguese island of Flores in the Azores Islands of the Atlantic Ocean. Considered to be the westernmost point of Europe, the islet is a rock formation standing 112 feet high, formed by lava flows that produced an irregular shape.
Fastnet Rock, an islet 8 miles off the Irish coast, is farther south than any other point in Ireland. Sometimes called "Ireland's Teardrop", it was the last sight of their home country for many Irish people when emigrating to North America during the 19th century.
South Stack is a rocky islet with cliffs high above the water close to Holy Island by the northwest coast of Anglesey, Wales. South Stack Lighthouse is 135 feet tall and the islet is accessible on foot by bridge, bringing thousands of visitors each year.
Silver Islet of Ontario on Lake Superior got its name after a rich vein of silver was discovered there in 1868. At that time, the islet was only about 30 or 40 feet long. A mining company increase the area above water by about 10 times and began extracting silver. Eventually the mine reached a depth of over 1200 feet when most of the silver had been removed. In 1884 the pumps stopped and the mine has been flooded ever since.
Islet Definition:
A very small island that has little or no vegetation and cannot support human habitation.