Lava Field Landforms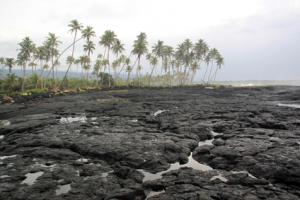 Lava Field Landforms Have 2 Main Characteristics:
Flat area of land
Covered by lava flows
Example of a Lava Field Landform:
Hell's Half Acre, Snake River Plain, Idaho, USA
The lava field picture above is on Savaii Island in SamoaThe picture is of a black lava field on Savaii Island, in Samoa
What is a Lava Field Landform?
A generally flat area where lava has flowed over the land, covering most of the area.
How are Lava Fields Formed?
Lava fields are formed in flat areas of land by vents that eject a very fluid form of lava such as basalt.
How Large is a Lava Field?
A lava field can vary in size from a few hundred square feet to thousands of square miles.
Where Can a Lava Field Be Found?
A lava field may be found in some flat plains regions or plateaus where volcanic activity occured in the past.
Famous Lava Fields
• Boring Lava Field, Boring Oregon
• Hell's Half Acre, Snake River Plain, Idaho, USA
• Harrat Rahat, Saudi Arabia
• Precambrian Shield, northern Canada
Portland, Oregon sits over portions of a lava field that was created more than 300,000 years ago, and may have begun more than 2 million years ago when the area was volcanically active. The lava field is named for the nearby town of Boring, where many of the vents were found.
There are vents and small dormant volcanoes in different areas of the metropolitan region of Portland. Hell's Half Acre is a lava field covering 150 square miles on the Snake River Plain of Idaho. A lava lake, now solidified, can be found near the summit of the lava field with vents nearby.
Most of the lava was produced from two or more fissure vents, cracks in the ground from which lava flowed. In Saudi Arabia, the Harrat Rahat was created in 1256, a lava field that traveled almost 15 miles, stopping about 2 miles outside the holy city of Medina. Canada's Precambrian Shield is an area of arctic northern Canada that produced a basaltic lava plateau, a lava field of 66,000 square miles, approximately 1.2 billion year ago.
Lava Field definition:
One or more flows of lava over a flat area of land, covering all or most of the area.