Marsh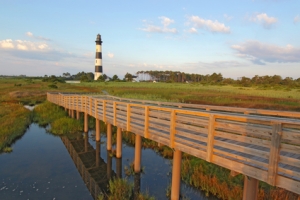 Marsh Landforms Have 2 Main Characteristics:
A wetland with grasses or other plants
Few or no trees
Example of a Marsh Landform:
Horicon Marsh, northeastern Wisconsin, USA
The marsh pictures above is in North Carolina
What is a Marsh Landform?
A marsh is a wetland that has primarily plant growth such as grasses, reeds, cattails and waterborn leaf plants and few or no trees.
How are Marshes Formed?
Marshes can be formed by tides in lowland areas near a coast. Rivers often form marshlands on low lying floodplains and near lakes that flood during the wet season. Some marshes are seasonal and occur when the river is high, flooding grassland areas.
How Large is a Marsh?
A marsh can be the size of a small lake. Marshlands can also extend for hundreds of square miles.
Where Can a Marsh Be Found?
A marsh can be found in some low lying areas of coastline or a river delta. Freshwater marshes can be found in floodplains of some slow moving rivers. A lake may have marshland along its border.
Famous Marshes
• Horicon Marsh, northeastern Wisconsin, USA
• Okavango Delta, Botswana
• Florida Everglades, Florida, USA
A former glacier covered northeastern Wisonsin. Debris from the retreating glacier blocked the meltwater, forming a lake that accumulated sediment and eventually drained to form Horicon Marsh.
The area covers 32,000 acres and includes the Horicon Marsh State Wildlife Area and the Horicon National Wildlife Refuge with millions of migrating waterfowl that include duck species, Canadian geese, and great blue herons. The Okavango Delta, an area of 5,800 square miles, may be the world's largest freshwater marsh.
The Okavango River of Botswana drains into a large delta which forms a marshland area of the Kalahari Desert. It is home for crocodiles and hippopotamuses, and a source of water for elephants, giraffes, wildebeast, lions, cheetahs and many other wild animals that live in the nearby desert.
The Florida Everglades are the largest freshwater marsh in the United States, covering over 2,000 square miles. The Everglades are actually a very wide, slow moving river averaging less than one foot in depth. Beginning at Lake Okeechobee, the land slopes very gradually toward the southwest.
Four major rivers of central Florida drain into the lake which overflows, the waters moving southwest through the Everglades to Florida Bay at a rate of one half mile per day. A large portion is sawgrass marshland, with areas of swampland and small clusters of cypress trees in places where sinkholes have developed in the limestone under the surface.
The Everglades are home for alligators and 16 wading bird species. There are white-tailed deer and marsh rabbits that are able to swim. Other animals include crocodiles, turtles, gray fox, raccoons, and bobcats. Manatee inhabit the waters near the coastline and are an endangered species with only about 2,000 living in Florida.
Marsh definition:
A wetland with waterborn grasses or other plants, having few or no trees.
Related to: Bayou