Moraine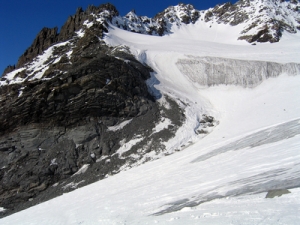 Moraine Landforms Have 2 Main Characteristics:
Rocks, soil and other sediment
Deposited by a former or receding glacier
Example of a Moraine Landform:
Kettle Moraine, Wisconsin, USA
The moraine picture is of a receding glacier and its deposits.
What is a Moraine Landform?
A moraine is an accumulation of soil, rocks and other sediment left by a retreating or former glacier.
How are Moraines Formed?
Glaciers pick up a great quantity of soil, rocks and other material. Landslides can fall onto a glacier and add more debris. When a glacier melts away, this material remains piled or spread over the ground surface.
How Large is a Moraine?
Moraines can extend for hundreds of feet. A series of moraines can extend for more than a hundred miles. The quantity of material may depend on how long the glacier was present over the land before disappearing. A glacier that remained for thousands of years can leave behind large hill-shaped moraines that may be hundreds of feet high.
Where Can a Moraine Be Found?
A moraine can be found in an area where a glacier existed in the past.
Famous Moraines and Facts
• Kettle Moraine, Wisconsin, USA
• Harbor Hill Moraine, Long Island, NY, USA
• Cape Ann Peninsula, Massachusetts, USA
• Moraines of Lithuania
Kettle Moraine is a series of hills up to 300 feet high in Wisconsin that extend north and south along the coastal region by Lake Michigan from the Illinois border to the Door Peninsula. The name "Kettle" refers to holes in and around the moraines.
These were formed by huge blocks of ice that fell off the retreating glacier. Partially buried, they melted and left depressions of various sizes up to 200 feet deep. Long Island of New York State has two large moraine formations that helped to form the island. Harbor Hill Moraine is found along the north shore of the island where a line of hills form a rocky shoreline.
Many rocks were carried by the glacier and deposited in the moraines. Ronkonkoma Moraine stretches east and west along the center of Long Island and includes the highest point of the island called Jayne's Hill at 401 feet. About 30 miles northeast of Boston, Cape Ann Peninsula was created by glacial moraines of rocks, bolders, soil and other sediment from a glacier that stretched south all the way from Newfoundland.
The country of Lithuania was partially covered by glaciers during the last ice age. The highest points of the land are glacial moraines that reach up to 1000 feet above their base, with many smaller hill-shaped moraines.
Moraine definition:
Soil, rocks and sediment deposited by a former glacier