Natural Arch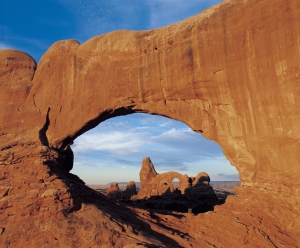 Natural arch landforms have 3 main characteristics:
Made of rock
formation of a bridge
Formed by erosion
Example of a natural arch landform:
Arches National Park, Utah, United States
What is a natural arch landform?
A natural arch is a rock formation that has a naturally occurring curved shape.  
A rock bridge is created between two cliffs and an open air space is located underneath the bridge.
How are natural arches formed?
Natural arches are formed when soft rock material is eroded rapidly by wind or water.  Natural arches generally form where they are susceptible to this type of swift wearing away.  The natural agents of erosion work on wear rocks along coastlines, in caves, and in areas that have water running through them.  Natural arches can also form in areas that have high winds or experience intermittent freezing and thawing which weakens rock.
 Famous natural arches:
Arches National Park, Utah, United States
Natural Arch, Tirumala, India
Durdle Door, Dorset, England
Natural Bridge, Virginia, USA
Arch Islands, Falkland Islands
Natural arch definition:
A rock bridge that forms naturally between two cliffs with an open space beneath it.
Other notes.  The picture about of the natural arch is a turret arch or double arch.  These are fairly common in places around the world especially Arches Natural Park in Utah.