Pothole Landforms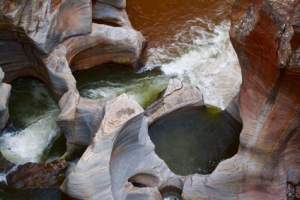 Pothole Landforms Have 2 Main Characteristics:
A hole in an exposed rock layer
Caused by a rivers current
Example of Pothole Landforms:
Canyonlands National Park, Utah, USA
The pothole picture above is of a river that is still creating potholes due to its currents.
What is a Pothole Landform?
A pothole is a hole or depression in a layer of exposed rock. The rock surface is generally level and flat. Potholes can also be found in river beds that have an exposed rock layer. This includes some rivers that are flowing today and dry river beds that no longer have flowing water.
How are Potholes Formed?
Potholes can form when water collects on a layer of exposed rock. Windblown particles, flowing water from rain, freezing and thawing can cause slight erosion of the surface. When water is present, bacteria, fungi and algae play a greater role in eroding rock layers by extracting silica from the rock.
This slowly breaks down rock minerals to enlarge holes and depressions that collect water. When a rock layer is exposed to running water under a stream or river, potholes can form by the action of water currents and turbulence. The movement of water, pebbles and sand can cause erosion to form potholes and depressions in the rock.
How Large is a Pothole?
A pothole can be from a few inches wide to several feet or more. Some that occur in desert plains regions can be over 300 feet wide. A pothole can be from one or two inches to many feet in depth. Some large potholes are over 50 feet deep.
Where Can a Pothole Be Found?
Potholes can be found in desert plains and badlands regions where rock layers are exposed on the ground and able to collect standing water. Potholes can also be found in river and stream beds that have exposed rock layers.
Famous Pothole Regions and Locations
• Eagle River, Upper Peninsula, Michigan, USA
• Canyonlands National Park, Utah, USA
• Capitol Reef National Park, Utah, USA
• Keelung River, Taiwan
• Grand Coulee River Bed, Washington State, USA
The Eagle River in the Upper Peninsula of Michigan is a flowing river with potholes from one to two feet in diameter that can be found not far from Lake Superior. The desert areas of Canyonlands National Park and Capital Reef National Park in Utah have many potholes and other karst formations.
The Keelung River and some other rivers and streams of northern Taiwan have potholes called Maokong, meaning "cat's hollow", formed by the action of turbulence and sediment. The ancient river bed called Grand Coulee in Washington State was a site of repeated Ice Age flooding of enormous proportions, carrying away the soil, carving canyons and forming enormous potholes. Some are more than 100 feet wide and 50 feet deep.
Pothole Definition:
A hole in an exposed layer of rock that created by a river's flowing water.