Ravine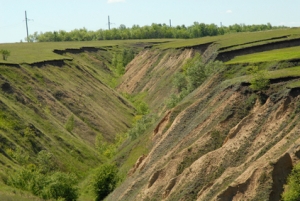 Ravine Landforms Have 2 Main Characteristics:
Smaller than either of the above
Example of a Ravine Landform:
Sages Ravine, Connecticut, USA
The ravine picture is in the middle of a farm field.
What is a Ravine Landform?
A ravine is similar to a canyon or a valley with steep sides, but smaller.
A ravine is usually larger than a gully. A ravine may have an active stream year around or during the wet season. Some ravines remain dry due to a change of climate since it was formed.
How are Ravines Formed?
Ravines are formed by the action of a stream that erodes the land.
How Large is a Ravine?
A ravine is generally several hundred feet wide.
Where Can a Ravine Be Found?
Ravines are found in mountain regions and lower elevations that have hills and changing land features.
Famous Ravines and Facts
• Sages Ravine, Connecticut, USA
• Rosedale Ravine, Toronto, Ontario, Canada
• Edgemont Ravine, Calgary, Alberta, Canada
• Tuckerman Ravine, Mt. Washington, New Hampshire, USA
Sages Ravine is a popular scenic hiking area at the western end of the border between Connecticut and Massachusetts. Many trails give different levels of challenge for hikers, including one that takes you to the top of Bear Mountain for spectacular scenic views of the area.
In the center of the city of Toronto, Rosedale Ravine provides an escape from the rush of people and traffic. In just a moment, you can leave behind the city noise and step down into the ravine and walk beneath trees that are over 150 years old.
A creek runs through the forest which is maintained by the city to protect the native plants and trees that have survived in the middle of an urban area. Edgemont Ravine, a group of several connected ravines, is another natural area of land that has been maintained as part of a city environment.
Located in the middle of Edgemont, a residential suburb of the city of Calgary, it includes a wetland that was developed to support waterfowl and other small animals. Tuckerman Ravine is found on Mt. Washington in New Hampshire and is a popular ski area.
The head of the ravine is a bowl shaped side of the mountain with various runs taken by skiers. There are no lifts or other facilities, so that skiers must hike up to the top in order to ski down the slopes. The mountain is also known for high winds at times and a danger of snow avalanches in the ravine.
Ravine Definition:
A smaller version of a valley with steep sides.