Terrace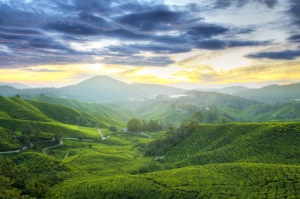 Terrace Landforms Have 2 Main Characteristics:
A flat, sometimes narrow, portion of land
Above a shoreline, valley or plain
Example of a Terrace Landform:
Pacific Coast, Fort Bragg, California, USA
The terrace picture above is of a tea plantation in Cameron Highlands, Malaysia.
What is a Terrace Landform?
A terrace is a raised portion of land that is flat or nearly flat and level above a shoreline, valley, or plain. A marine terrace overlooks an ocean or sea.
How are Terraces Formed?
A terrace can be formed as a river cuts deeper into the land. A new, lower floodplain may then be established, leaving part of the former flood plain at a higher level as a terrace. A marine terrace, or raised beach, can be formed above an ocean shore when a former beach is elevated by an uplift of the land, or there is a drop in sea level.
A glacier can sometimes form a terrace when running streams of meltwater cut into the mountainside. Glacial lakes have also created narrow terraces, remaining in the hillside when the water is gone.
How Large is a Terrace?
A terrace can be from a few feet wide to the size of a beach. A large terrace may be part of a plateau that extends for hundreds of square miles.
Where Can a Terrace Be Found?
A terrace can be found above an ocean shore or on the border of a floodplain. A terrace can be found in desert areas where a former body of water existed. Terrace formations may overlook a valley where there was glacier activity in the past.
Famous Terraces and Facts
• Pacific Coast, Fort Bragg, California, USA
• San Diego, California, USA
• Table Cape, Māhia Peninsula, New Zealand
• Island of Curaçao, Antilles Islands
• Grand Staircase, Arizona and Utah, USA
The San Andreas Fault was the subject of a study on the California coast for 15 miles of the coastline near Fort Bragg. The land has uplifted approximately 1 1/2 feet every one thousand years and there are three different terrace formations at different heights.
The San Diego area of the southern California coast has been found to have 16 different terrace levels, many now eroded. These may indicate many past changes in sea level and land elevation. Table Cape on the Māhia Peninsula of New Zealand has experienced many earthquakes during its past. These are said to have caused an uplift and tilt of the land, forming a sloping marine terrace overlooking the sea.
The Island of Curaçao in the Netherlands Antilles has four limestone terraces on the north coast from 25,000 years to 1.5 million year old. Each terrace contains remnants of coral, having once been part of a coral reef below the water. A series of terraces called the Grand Staircase begin from the northern rim of the Grand Canyon to the Paunsaugunt Plateau in Southern Utah.
These include cliffs up to 2000 feet high and terraces up to 15 miles wide. It was created by the action of rivers and inland seas that have existed at various times in the past at different elevations.
Terrace definition:
An elevated portion of land that is generally flat and level, overlooking a shoreline, valley or plain.