Cinder Cones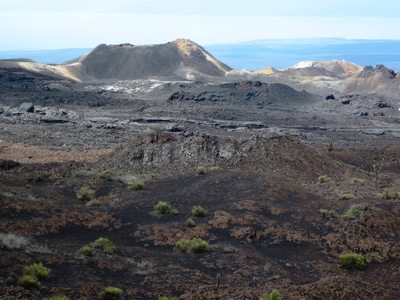 Cinder cones are steep conical hills of volcanic debris or tephra which accumulate from a volcanic vent both around and downwind. They are the most common form of volcanoes and are also referred to as scoria cones. Cinder cones vary in size from a few to hundreds of meters and most of them have a crater with a bowl shape at the summit.
How Cinder Cones Erupt
Cinder cones are formed through Strombolian eruptions that produce basalt tephra's eruptive columns. The columns are usually several meters high . Majority of them only erupt once unlike other volcanoes such as shield volcanoes and are referred to as monogenetic.
Cinder cones may occur on basaltic lava fields as discrete volcanoes and mainly comprise ejected basaltic tephra. The fragments of tephra contain vesicles or gas bubbles which give the bombs and lapilli a cindery appearance. Accumulation of tephra results in the formation of volcanic structure that has slopes that are very steep.
What does it look like?
Cinder cones have very large craters at the summit and straight sides unlike the other main types of volcanoes. They have a symmetrical shape though most are asymmetric because of the volcano's elongation above an eruptive fissure and tephra build up on the edifice's downwind flank.
How it is made
In the final stages of eruption of cinder cone, magma is usually gas depleted and it does not have a flow. Instead, it slowly oozes beneath the cone's bass as lava or into the crater. Typically, lava does not flow from the top since the pressure it exerts as it rises towards the surface cannot be supported by the cinders which are very weak.
Molten lava is denser than the cinders since it has very few bubbles of gas. It therefore flows out along the cinder cone's bottom and lifts the cinders which results to the creation of lava flow along the base of the cone.
Where are Cinder Cones located?
Cinder cones are generally located on the flanks of calderas, shield volcanoes and stratovolcanoes.  A famous cinder cone landform is in Paricutin, Mexico. It actually formed in matter of days! In Mauna Kea, there are100 cinder cones located along the side of Mauna Kea, Hawaii.