Arête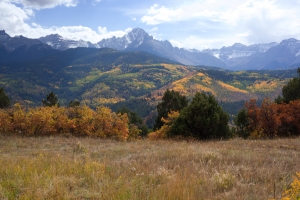 Arête landforms have 3 main characteristics:
Sharp ridge of rock
On a mountain
Formed by glaciers
Example of an Arête Landform:
Garden Wall, Glacier National Park, Montana, USA
What is an Arête Landform?
An arête is a sharp ridge of rock that is formed between glacially created valleys. The ridge is then made more defined through erosion processes such as freeze-thaw erosion.
How are Arêtes Formed?
An arête is formed by the movement of a glacier. Glaciers move slowly and carry rocks and sand that can reshape the land. When a glacier passes both sides of a mountain top or other rock formation, it can wear the rock and create a sharp edge. The sides of an arête are usually very steep, with jagged edges. A glacier can flow through two parallel valleys and create many arête formations in between. An arête can also be formed when two glacier flows meet, carving a mountain between them. Wind, water and freezing temperatures can cause the walls of an arête to erode, making them steeper and sharper.
Where can an Arête be Found?
In the past, glaciers have flowed in many parts of the world. In Glacier National Park in Northern Montana, a large arête formation can be found called the Garden Wall. Others exist in Yosemite National Park and in many areas of Utah and other mountainous regions.
What is a Pyramidal Peak?
When 3 or more arêtes meet, they may form a rocky peak that can look somewhat like a pyramid. This is called a pyramidal peak or a horn. This can occur when 2 or more glacial flows come together. Many interesting formations can be created this way.
What is a Corrie?
When 2 or more arêtes meet, they can form a corrie below. A corrie is a depression in the walls of an arête, sometimes in the form of an armchair. A corrie can form when a heavy glacier flow is diverted by the wall of an arête.
Famous Arêtes:
A well known arête formation is a pyramidal peak called the Matterhorn. It is located in the Alps on the border of Switzerland and Italy. A very large model of the Matterhorn is a popular amusement ride at Disneyland in Anaheim, California.  Here are a few other famous landforms.
Garden Wall, Glacier National Park, Montana, USA
Clouds Rest, Sierra Nevada, California, USA
Sawtooth, Colorado, USA
Càrn Mòr Dearg, Lochaber, Scotland
Arête Definition:
A thin ridge of sharp rock that is usually formed between two melting glaciers.