How Landforms Affect Global Temperature and Weather.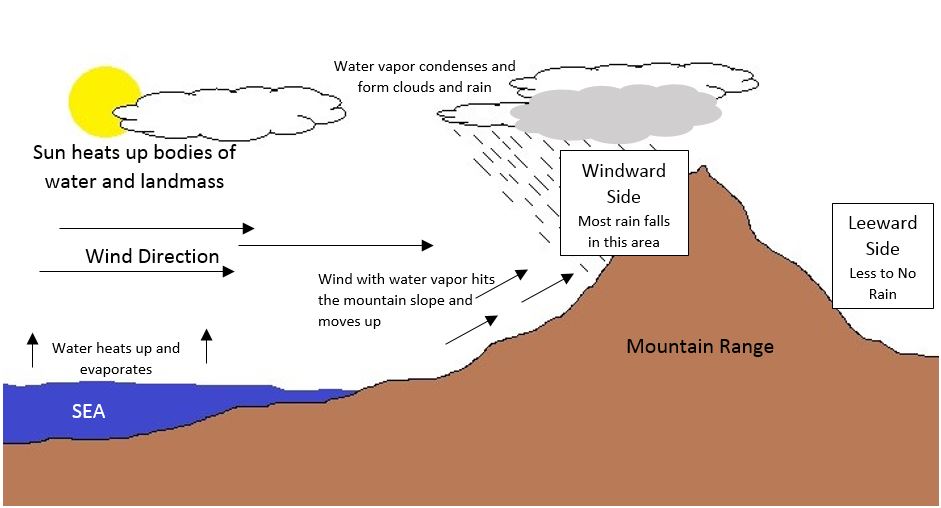 The global temperature and weather is to a large extent a direct result of the sun's effect to our planet.  Together with the atmosphere and the rotation of the earth on its axis.  The earth on which weather moves on has its own effect on the weather.  The different landforms like mountains, volcanoes, plains, and the sea exert, quite a commendable influence on the local and global weather systems of the earth.
Role of bodies of water in changes of global temperature and weather.
Huge bodies of water absorbs and releases heat in a very slow cycle.  On the other hand, landmass goes through a quicker process of heating and cooling.  This causes a large difference in temperature at night and day on land or around bodies of water.  This constant heating and cooling affects wind and rain.
Role of landforms to global temperature and weather.
Heating of the landmass during the day causes great convection of air and clouds quickly forms above it.  This distinctive feature play a significant role in the production of winds, sea breezes to monsoon winds.
The conflict between the weather and the landmass can also affect and change the earth's weather.  This is seen when rain or hurricanes make landfall and move onshore.  Normally, when a storm passes through a mountain range or terrains or even buildings, its rotation is intercepted by an obstruction which in turn, slows down wind and robs its momentum.  This weakens the storm and greatly affects its strength.
Hills and mountain ranges also plays an influence on our weather.  When low pressure approaches a hill or a mountain range, wind moves upward and spreads out.  With this, the rotating speed of the wind decreases and much of its strength gets lost in the process.
Rain shadow zones are also brought about by colossal mountains.  When a mountain obstructs air current, air flow goes up, where it condenses, precipitate and rains down.  As a result, mountain slopes and base are generally the areas with heavy rainfall.  The area where precipitation normally falls is called the windward side or the part of the mountain that faces the wind.
When air reaches the leeward side or the part of the mountain that is sheltered from the wind, much of the winds strength gets lost and shrink or even dry up.  The effect of this process is that leeward part of the mountain or the lower part not facing the wind, receives a very small quantity to no rain at all.  This part of the mountain is called the rain shadow zone.  Examples of rain shadow areas are the Central Plains and some part of the Rockies (Eastern).  A rain shadow zone with a prolonged bout of no rainfall can effect into the formation of deserts.