Cave Landforms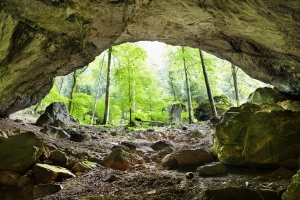 Cave Landforms Have 2 Main Characteristics:
A hollow space underground or inside an elevated landform
Large enough for a person to enter
Example of a Cave Landform:
Mammoth Cave, Kentucky, USA
The cave picture is of Galbena River Cave in Apuseni mountains in Romania
What is a Cave Landform?
A cave is a hollow space below the ground or inside a mountain or other elevated landform.
How are Caves Formed?
Wind and waves can form caves along the shoreline in soft rock formations. Wind and rain can erode limestone that lay under a hard layer of rock, forming a cave. Freeze-thaw erosion can also lead to cave formation. The presence of groundwater can dissolve limestone deposits, forming caves underground. If the top of a cave is covered with a hard rock layer, the cave may last for a long period of time.
However, if the top of a cave is limestone, it may eventually weaken from exposure to water and cause the cave to collapse. Carbonic acid in groundwater and organic acids from the soil are often present to help dissolve limestone and form caverns underground. In some cases, sulfuric acid may be present in the groundwater, created from sulfuric gases rising from oil deposits below.
Lava from volcanic activity can also form caves and other openings in the ground. As lava flows, the surface can cool and harden. Inside this form, the lava may still be hot and drain away, creating a tube or other form. Later this may be covered by sediment and remain underground.
How big is a Cave?
A cave is a hollow space large enough to allow a person to enter by walking or crawling. The largest caves have hundreds of miles of passages underground.
Where Can a Cave Be Found?
Caves are found all over the world where soft rock formations have been exposed to weather, waves or groundwater.
Famous Caves
Carlsbad Caverns, New Mexico, USA
Krubera Cave (or Voronya Cave), Abkhazia, Georgia (Eastern Europe)
Mammoth Cave, Kentucky, USA
Sistema Ox Bel Ha, Quintana Roo, Mexico
Carlsbad Cavern is found at Carlsbad Caverns National Park in southeastern New Mexico. The Big Room is an area of the cavern that is almost 4000 feet long and 225 feet high. Krubera Cave is the deepest known cave in the world at 7208 feet below the entrance in Abkhazia, Georgia.
Mammoth Cave in Kentucky has about 400 miles of surveyed passages, more than any other cave in the world. Some reports indicate that Mammoth cave may extend much further, although unconfirmed. The longest known underwater cave in the world, called Sistema Ox Bel Ha, is found in Quintana Roo, Mexico with 160 miles of surveyed passages.
Cave definition:
A hollow space that exists underground, or inside an elevated landform, large enough to allow a person to enter