Confluence Landforms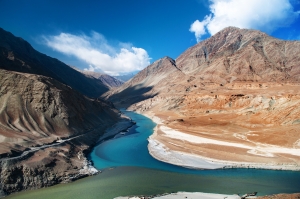 Confluence Landforms Have 2 Main Characteristics:
Two or more bodies of water meet at the same location
The waters mix, sharing qualities of each
Example of a Confluence Landform:
Niagara River and Lake Ontario, Canada
The picture of the confluence is of  Zanskar and Indus rivers connecting in Leh, Ladakh, India
What is a Confluence Landform?
A confluence is the meeting point for 2 or more bodies of water. It is used to refer to the meeting of 2 rivers or streams, or any 2 bodies of water such as a lake, ocean, intracoastal waterway or canal. The word "junction" could be used. However, a "confluence" is more specific, meaning the waters combine and share their qualities.
How is a Confluence Formed?
When any 2 bodies of water meet, they form a confluence.
Where Can a Confluence Be Found?
In every part of the world, rivers, streams and other bodies of water meet and the waters combine.
Famous Confluences
 Niagara River and Lake Ontario, Canada
 Mississippi and Missouri Rivers, USA
 Rio Negro and Solimões River, Brazil
 Danube, Inn and Ilz Rivers, Germany
The Niagara River enters Lake Ontario at a town called Niagara-on-the-Lake in Ontario. This was the first capital of what was known as Upper Canada, which later became the province of Ontario. In 1798, its name was changed from Newark to Niagara. During the War of 1812, American forces bombarded the city with cannon for 2 days and captured it.
Later in the war, the Americans burnt the city to the ground, but it was rebuilt by residents after the war. The City of St. Louis, known as the "Gateway to the West", grew in the area just south of the confluence of the Mississippi and Missouri Rivers, an important waypoint for pioneers on their way west to California and other destinations in the west.
At the confluence of the Rio Negro and the Solimões River is the capital city of the state of Amazonas in Brazil. It is only accessible by boat or airplane, which has helped the city to preserve its culture and way of life, which include Native Brazilian tribes that are a part of the culture. At Passau in Lower Bavaria, Germany, also known as the Dreiflüssestadt or City of Three Rivers, there is the confluence of the Danube, the Inn and the Ilz.
Confluence definition:
The meeting point for 2 or more bodies of water