Dome Landforms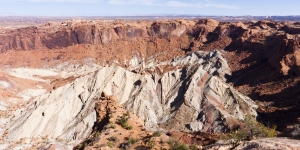 Dome Landforms Have 2 Main Characteristics:
Round or oval-shaped land formation
Elevated above the surrounding area
Example of a Dome Landform:
The dome picture above is of Upheaval Dome , Canyonlands National Park, Utah, USA
What is a Dome Landform?
A dome is a round or oval-shaped formation that has risen above the ground around it.
How are Domes Formed?
A dome can sometimes be formed by the impact of a meteor. This can break up the layers of rock under the ground, so that pressure and the weight of the ground and rock layers nearby can push the area upward. The broken layers of rock have less resistance to underground pressure and the land may lift upward to form a dome shape. This may take thousands of years to occur after an impact.
Another way that a dome is formed is by geological stress that cause folding of the land. This folding can take place from different directions at different times. When folds of land run in different directions, this can cause an uplift of the land where they meet to form a dome-like area.
Still another way a dorm can be formed is when there is a difference in the density of material underground. If there is an area that contains material that is less dense or lighter than the rock and ground around it, this can cause the material to rise. The weight of the heavier rock around the material can force it upward, and it may push the ground layers above it upward to form a dome. This may take many thousands of years to occur.
How Large is a Dome?
A dome can be less than 100 feet in diameter or several miles wide. One of the largest was 44 miles wide, formed after a meteor impact.
Where Can a Dome Be Found?
At some meteor impact sites, a dome can be found. In areas where folding of the land has occurred with long hills that cross and intersect, a dome formation may be present.
Famous Domes
• Upheaval Dome , Canyonlands National Park, Utah, USA
• Richat Structure near Ouadane, Mauritania
• Vredefort Crater , Vredefort, South Africa
Southwest of Moab, Utah in Canyonlands National Park can be found a dome inside a crater that was formed by a meteor impact. Much of the crater has eroded away. The dome is 3 miles in diameter and the crater is estimated to be 170 million years old.
The Richat Structure or "Eye of the Sahara" lies in the Sahara Desert of northern Africa in the country of Mauritania. Once thought to be formed after a meteor impact, research now indicates the 25 mile diameter dome may have been caused by geological forces in the land.
The largest known impact crater on Earth encircles Vredefort, South Africa and was more than 180 miles in diameter when visible. A 44 mile wide dome formed in the center where the impact occurred about 2 billion years ago. Only portions of the dome remain.
Dome definition:
A round or oval formation in the land, elevated above the ground around it