Mud Volcano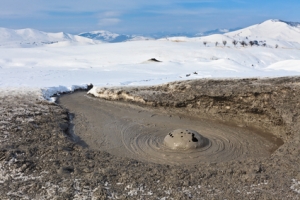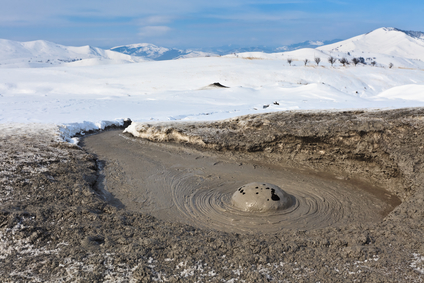 Mud Volcano Landforms Have 2 Main Characteristics:
A hill shape or other form
Created by mud ejected from underground due to geothermal activity.
Example of a Mud Volcano Landform:
El Totumo, Colombia
The mud volcano picture is from Buzau, Romania
What is a Mud Volcano Landform?
A mud volcano is a formation created by the ejection of mud from the ground. A mud volcano is not a true volcano and no lava or ash are produced.
How are Mud Volcanoes Formed?
Ground water is heated by geothermal activity and mixes with sediment to form mud. Steam from heated water deep underground forces mud through an opening or fissure in the ground, sometimes in a fault zone. A mud volcano called Lusi in Indonesia may have been artificially created while drilling for gas. An earthquake occurred and a large mud flow was produced which killed 14 and destroyed the homes of 24,000 other people.
How Large is a Mud Volcano?
A small mud volcano may be only a few feet high and wide. The largest is Lusi in Indonesia and is 6 miles wide, reaching 2300 feet in height.
Where Can a Mud Volcano Be Found?
A mud volcano can occur in a fault zone, an area of volcanic activity or in a subduction zone under the ocean.
Famous Mud Volcanoes and Facts
• Mendocino Coast, California, USA
• Redondo Beach, California, USA
• El Totumo, Colombia
• Eastern Venezuela
• Trinidad and Tobago
• Turtle Islands, Phillipines
• Balochistan, Pakistan
• Caspian Coast, Azerbaijan
Small mud volcanoes about 4 to 5 feet high can be found on the Mendocino Coast of California, producing clay. About 15 miles out from the shore of Redondo Beach, California, 2,600 hundred feet below the surface, is an underwater mud volcano, approximately 100 feet high and several hundred feet wide.
El Totumo is a mud volcano in Colombia standing 50 feet high. Many people visit the crater to lie in the mud which is said to have medicinal benefits. Eastern Venezuela has a few mud volcanoes in an area of oil deposits. Trinidad and Tobago in the Caribbean Sea has many mud volcanoes, also in an area of oil deposits.
Three of the Turtle Islands of the Phillipines have mud volcanoes, including one on Lihiman Island that has earthquakes and violent ejections of mud and rocks. In the Lasbela District in the Balochistan province of Pakistan, mud volcanoes are found up to about 1,500 feet in height.
This includes the Chandragup mud volcano which has a crater of around 450 feet wide. Almost 400 mud volcanoes can be found in Azerbaijan with many near the Caspian Coast.
Mud Volcano Definition:
A mound or hill shape created by mud ejected from an opening in the ground