River Island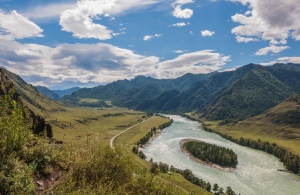 River Island Landforms Have 2 Main Characteristics:
A landmass (island) in a river
Above the surface of the water
Example of a River Island Landform:
Davis Island, Mississippi River, Louisiana and Mississippi, USA
The river island picture above is of a river in a mountainous area.
What is a River Island Landform?
A river island is any kind of landmass within a river that sits above water. It may be an Island, a sand bar or a rock.
How are River Islands Formed?
Sand or other sediment can build in a portion of the river by currents when the river level is high. During the dry season, these can be exposed above the surface. Erosion of the river bed or river bank can reduce the water level, exposing a rock or landmass near the surface. An anabranch can also form and return to the main portion of the river downstream, forming an island between two channels of the river.
How Large is a River Island?
A river island can as small as a rock above the surface, or as large as an island covering more than a hundred square miles.
Where Can a River Island Be Found?
A river island can be found in a river or stream above the water.
Famous River Islands and Facts
• Davis Island, Mississippi River, Louisiana and Mississippi, USA
• Montreal Island, Quebec, Canada
• Manhattan Island, New York, USA
• Chongming Island, Yangtze River, China
Davis Island of the Mississippi River is in Warren county, Mississippi and also Madison Parish of Louisiana. It covers about 120 square miles, which can vary depending on the level of the river. Davis Island was the location of a plantation owned by President Jefferson Davis of the Confederate States.
The city of Montreal, Canada sits entirely on a river island of approximately 200 square miles in the St. Lawrence River of Quebec. A few independently incorporated suburban towns also occupy a portion of the island. Manhattan Island lies between the Hudson and East Rivers and is a borough of New York City that includes the well known areas of Central Park and Times Square.
The island covers 22.7 square miles and is famous for the original sale of the island to Dutch colonists by native Americans. Sold for the equivalent of 24 dollars, the value of the island is now estimated to be over 3 trillion dollars. Chongming Island in China covers nearly 500 square miles and has a length of about 50 miles.
It was formed at the entrance of the Yangtze River by the buildup of sediment. The island includes a bird sanctuary, the Dongping National Forest and a Buddhist site called Jin´ao Mountain with beautiful Chinese gardens that attract many visitors.
River Island definition:
An island in a river.