Continental Shelf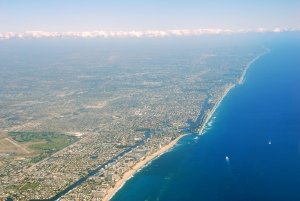 Continental Shelf Landforms Have 3 Main Characteristics:
A portion of the continent that extends beyond the coastline
Lies below the ocean's surface
Shallow depth
Example of a Continental Shelf Landform:
Siberian Shelf, Arctic Ocean
The picture is of Southeast Florida Continental Shelf (It is under water).  It is smaller than the side in the Gulf of Mexico.
What is a Continental Shelf Landform?
Land that extends from a continent under the ocean is called a continental shelf. A shelf is not very deep, when compared to ocean depths beyond. A continental shelf is usually less than 500 feet below the ocean's surface.
How is a Continental Shelf Formed?
Part of a continent may drop in elevation, becoming a portion of continental shelf that borders the dry mainland. The sea level can also rise, submerging a portion of the continent. Part of a shelf can also rise above the water and become part of the continent, or the sea level may drop and expose a part of the shelf. These events have taken place at certain times in the distant past, according to some geologists.
Where Can a Continental Shelf Be Found?
A continental shelf can be found bordering most continental coastlines. The shelf is actually a portion of the continent that lies below sea level. Certain areas of a continental coast have no shelf. These usually occur where there is a meeting of tectonic plates at the coastline. The coast of Chile is one example of this.
How large is a Continental Shelf?
The average width of a continental shelf beyond the coastline is 50 miles. The largest continental shelf lies off the Siberian coast in the Arctic Ocean, extending for 930 miles into the ocean.
Famous Continental Shelves
 North Sea
 South China Sea
 Persian Gulf
The North Sea that borders the northern European and Scandinavian countries is a shallow sea that lies above the continental shelf of Europe with an average depth of 300 feet. The South China Sea covers a large shelf that includes Sumatra, Java, Borneo and the Asian mainland. In many areas its depth is only about 65 feet. The Persian Gulf lies over a shelf that averages 164 feet below the surface.
Continental Shelf definition:
The extended landmass of a continent that lies below the ocean at a shallow depth