Crater Lake Landforms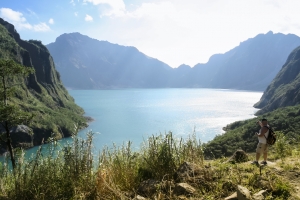 Crater Lake Landforms Have 2 Main Characteristics:
A crater or caldera filled with water
Created by a volcano or meteor impact
Example of a Crater Lake Landform:
The crater lake picture is of Lake Pinatubo, Philippines.
What is a Crater Lake Landform?
A crater lake is a depression created by a volcanic crater or caldera that is filled with water.
How are Crater Lakes Formed?
When a volcano is no longer active, the crater or caldera may fill with water from rainfall and melting snow that may also feed the lake. A caldera is created by the collapse of a volcanic crater and the land around it. In a few cases, the volcano is still active, with vents that release gases under the lake which may cause the water to become acidic and unable to support life.
A lake can also exist in an impact crater, created by the fall of a meteor or in one case a nuclear weapon test in Kazakhstan. Sometimes these are also called crater lakes.
How Large is a Crater Lake?
A crater lake is generally one to several miles in diameter.
Where Can a Crater Lake Be Found?
There are craters and calderas on several continents that have filled with water to form a lake.
Famous Crater Lakes
 Lake Pinatubo, Philippines
 Crater Lake, Oregon, USA
 Ojos del Salado, Chile
 Lake Toba, Indonesia
 Manicouagan, Canada
Lake Pinatubo was created after the eruption of Mount Pinatubo in the Philippines on June 15, 1991. A caldera was formed which filled with water to create the deepest lake in the Philippines at 2000 feet. Crater Lake of Oregon has exceptionally clear water fed by rainwater and melting snow and has no drainage. It is the deepest lake in the US at 1949 feet, formed in the caldera of Mount Mazama after an eruption about 7000 years ago. Ojos del Salado in Chile may be the highest lake in the world at 20,965 feet and is 330 feet in diameter. An eruption occurred there around 1300 years ago that may have allowed the lake to form.
Four overlapping volcanic craters form the world's largest volcanic body of water called Lake Toba in Indonesia. The lake is 62 miles long and 19 miles wide and filled with water after an extremely large volcanic eruption approximately 70,000 years ago.
The Manicouagan Crater of Northern Quebec has multiple rings formed by the impact of a meteor over 200 million years ago. The most prominent ring holds a lake that is 40 miles in diameter and has an island in the middle in the form of a plateau.
Crater Lake definition:
A crater or caldera that has filled with water to form a lake