Meander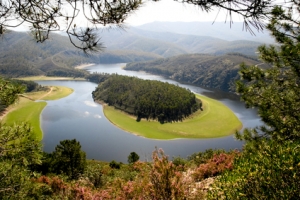 Meander Landforms Have 2 Main Characteristics:
A bend or curve in a river or stream
Over 90 degrees
Example of a Meander Landform:
Uvac River, Serbia and eastern Bosnia and Herzegovina
What is a Meander Landform?
A meander is where a river or stream makes a bend or curve, generally over 90 degrees.
How are Meanders Formed?
At a bend in a river or stream, water flows against the outer river bank with increased force. This can erode the bank and slowly increase the size of the bend to form a large curve called a meander.
How Large is a Meander?
The size of a meander depends on the size of the river or stream. A large river can create a large meander that may be several miles long.
Where Can a Meander Be Found?
Almost all rivers have sections that include meanders. A meander is more likely to occur in a slow moving, shallow river or stream on a floodplain.
Famous Meanders and Facts
• Uvac River, Serbia and eastern Bosnia and Herzegovina
• Owens River, California, USA
• Tennessee River, midwestern USA
• Mississippi River, midwestern USA
• Granite Gorge, Colorado River, southwestern USA
The meandering Uvac River flows through Serbia, crossing into eastern Bosnia and Herzegovina and later follows the border between the two countries for six miles before joining the Lim River.
The Owens River of southeastern California has many meanders as it flows through the Owens Valley from the Sierra Nevada Mountains. Most of the water from Owens River is now diverted to the Los Angeles Aqueduct, leaving only a small quantity for the valley and Owens Lake.
Many meanders of the Tennessee River have been covered by reservoirs which lie behind nine hydro-electric dams on the river. The dams also provide flood control and locks for boat passage. The lower Mississippi River meanders for much of its way to the Gulf of Mexico.
With urban development and the construction of many dikes for flood control, some areas of the Mississippi can no longer create new meanders or change its direction as rivers sometimes do. The Colorado River enters Granite Gorge of the Grand Canyon where the river meanders, having cut through many layers of rock, forming winding canyons up to a mile deep.
Meander Definition:
A majorly rounded bend or curve in a river or stream.
Related to: Oxbow Lake