Oxbow Lake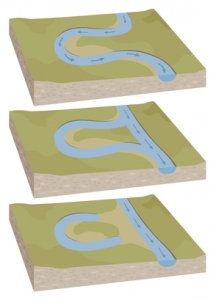 Oxbow Lake Landforms Have 2 Main Characteristics:
Long and narrow, curved lake
Example of an Oxbow Lake Landform:
Carter Lake, Nebraska and Iowa, USA
The oxbow lake picture is of a diagram of how it is formed.
What is an Oxbow Lake Landform?
An oxbow lake is a long, narrow curved lake. It is a former meander of a river that has been isolated.
How are Oxbow Lakes Formed?
When a meander in a river flows near another turn in the river, erosion or flooding may cause the river to break through or cross over the land and form a new channel. A portion of the river is bypassed as water flows through the new channel. Often, sediment will form a new riverbank and isolate the old channel, forming a lake that has a "C" or "U" shape.
How Large is an Oxbow Lake?
The width of an oxbow lake is usually similar to the width of the river that formed the lake. The lake is usually 8 to 20 times longer than its width.
Where Can an Oxbow Lake Be Found?
An oxbow lake may be found on a floodplain near a slow moving river with many meanders.
Famous Oxbow Lakes and Facts
• Carter Lake, Nebraska and Iowa, USA
• Cuckmere River, Sussex, England
• Connecticut River, Northampton, Massachusetts, USA
• Lake Chicot, Arkansas, USA
• Kanwar Taal Lake, Begusarai, Bihar
Carter Lake on the border of Nebraska and Iowa was formerly known as the Saratoga Bend of the Missouri River. During a flood in 1877, the river formed a new channel and Saratoga Bend became an oxbow lake.
The meandering Cuckmere River on the floodplain of Sussex, England has formed several oxbow lakes on its way to the English Channel. As a popular tourist destination, the river enters the channel by the Seven Sisters, famous white chalk cliffs overlooking the Channel.
A lake called The Oxbow was formerly part of the Connecticut River in Northampton, Massachusetts. A flood in 1840 cut a new channel and the meander formed an anabranch, which remained connected to the river at both ends. It was then used by a logging company as a holding area for logs floated downstream.
Later, the northern end was filled during construction of the Interstate 91 Expressway, forming an oxbow lake attached to the river at the south end. The largest oxbow lake found in North America is Lake Chicot of Arkansas. It was formed 600 years ago by the Mississippi River and is over 21 miles long and 3/4 mile wide.
Kanwar Taal Lake of Bihar is the largest oxbow lake in Asia with freshwater. This is the location of the Bharatpur Bird Sanctuary in Keoladeo National Park, supporting over 230 bird species.
Oxbow Lake definition:
A long, curved lake that is a former meander of a river.