Erg Landforms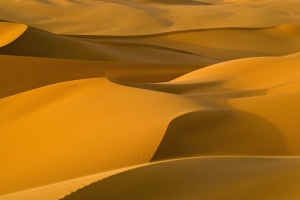 Erg Landforms Have 2 Main Characteristics:
Large sand covered desert area
Sand dunes cover most of the area
Example of an Erg Landform:
Gran Desierto de Altar, Mexico and USA
The erg picture above is from the Libyan Desert.
What is an Erg Landform?
An erg is a large area of land covered with sand dunes.
How are Ergs Formed?
Ergs are formed by the action of winds. Sand dunes can migrate and increase their number in certain areas over many thousands of years. Large regions of sand were originally formed when the land was covered by a shallow sea. The action of waves over very long periods of time can erode rocks to form sand.
How Large is an Erg?
An erg covers at least 48 square miles. A large erg can cover tens of thousands of square miles.
Where Can an Erg Be Found?
Ergs can be found in sand deserts on almost every continent.
Famous Ergs
• Gran Desierto de Altar, Mexico and USA
• Grand Erg Oriental, Sahara Desert, Algeria
• Rub' al Khali Desert, Arabian Peninsula
• The Taklamakan Desert, China
The Gran Desierto de Altar is the only active erg found in North America, in the northwestern Mexican state of Sonora. The Yuma Desert in Arizona and the Algodones Dunes of southeastern California were once connected to the erg in Sonora and are sometimes considered to be a part of it.
Grand Erg Oriental is an extremely large erg located in northeastern Algeria and a portion of Tunisia. It stretches for about 370 miles by 120 miles wide in the Sahara Desert. Very large ergs exist in the Rub' al Khali Desert that covers 251,000 square miles of the Arabian Peninsula as part of the Arabian Desert. The Taklamakan Desert of western China has 130,000 square miles and 85% of its area is covered by sand dunes.
Erg definition:
A large desert area covered with sand dunes.
Also related to the erg landforms: Barchan