Rapids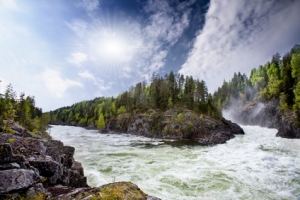 Rapids Landforms Have 2 Main Characteristics:
A fast moving section of a river
Has rough water
Example of a Rapids Landform:
Lava Falls Rapid, Colorado River, Arizona, USA
The rapids picture above is of river rapids in Norway.
What is a Rapids Landform?
Rapids are a fast moving portion of a river with rough water.
How are Rapids Formed?
Water can flow more quickly on a steeper incline. Water passing through a narrow portion of the river can also flow more rapidly. Rapids are also associated with rough water created by rocks and exposed rock layers below the water. Rocks and other obstructions cause water to move more rapidly over and around them.
How Large are Rapids?
Rapids can stretch across the entire width of a river, or include only a portion. The length of rapids can be as little as 10 feet, or go on for hundreds of feet. Some rapids can continue for many miles downstream. The size and force of waves and obstructions in rapids are measured according to a scale from 1 to 6. Rapids of class 6 are considered impassible for most people and extremely dangerous.
Where Can Rapids Be Found?
Many rivers have sections that contain rapids, especially rivers that pass through canyons and mountainous regions.
Famous Rapids and Facts
• Lava Falls Rapid, Colorado River, Arizona, USA
• White Nile River, Uganda
• Inga Rapids, Congo River
• Cotahuasi River, Peru
• Rio Futaleufu, northern Patagonia, Chile
The Colorado River is one of the most famous locations for rafting and kayaking rapids. The most difficult section of the Colorado may be Lava Falls Rapid, a class 5 rapid in the Grand Canyon. The White Nile River of Uganda is a very large river with warm water and many strong rapids recommended by experienced whitewater sportsmen.
The Inga Rapids of the Congo River are considered to be the world's largest by volume and extremely challenging. For 50 miles, the rapids have four times the volume of the Mississippi, and is one-fifth as wide, having 40 foot whirlpools and waves that can reach 20 feet high.
French adventurer and TV personality Philippe de Dieuleveult with 6 other people disappeared in 1985 while running the Inga Rapids, and were never found. The Cotahuasi River of Peru has many class 4 rapids and several that are rated class 5.
It flows through a canyon that is twice as deep as the Grand Canyon of the Colorado River and has Inca ruins among the spectacular scenery. The Rio Futaleufu of northern Patagonia in Chile is considered one of the best rivers for kayaking. It has the famous class 5 Terminator Rapid with a hole in the middle that must be avoided. The river has unusual turquoise colored waters fed by glacier meltwater flowing through layers of limestone rock.
Rapids Definition:
A section of a river that flows more quickly and has rough water.
See also riffle