Dirt Cone Landforms
Dirt Cone Landforms Have 2 Main Characteristics: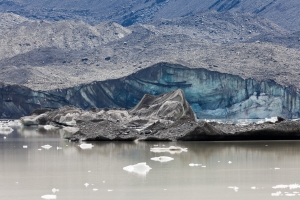 1. Cone-shaped formation on a glacier's surface
2. Covered with a layer of dirt or other sediment
Example of a Dirt Cone Landform:
The dirt cone picture is of a melting glacier next to a glacier lake.   You can see dirt cones growing larger.
What is a Dirt Cone Landform?
A dirt cone is a cone shaped elevated part of a glacier that is covered with soil or other sediment. The shape is usually irregular, not a perfect cone.
How are Dirt Cones Formed?
When soil or other sediment falls from a ridge or mountainside onto the glacier, this can form an insulating layer over the ice. In temperatures above freezing, the surface of the glacier may begin to melt and drop in elevation. Less melting occurs under the sediment, which forms a cone shape that is higher than the surface around it. Sediment can be forced upward by meltwater under pressure from the bottom.
This forms layers of sediment inside the glacier. As a glacier moves, the changing form of the land can cause a sediment layer to be exposed at the surface, permitting a dirt cone to form in warmer temperatures. Melting or evaporation can also expose a sediment layer under the surface and form a dirt cone.
How Large is a Dirt Cone?
Dirt cones are often from 3 to 10 feet in diameter. Large cones have been found, ranging from 100 to almost 300 feet in diameter.
Where Can a Dirt Cone Be Found?
Dirt cones occur most often near crevasses in the ice. Meltwater on the surface can carry sediment to different areas of the glacier surface where dirt cones may also form. Dirt cones have been found on all glaciers that move in mountainous regions. Dirt cones have not been found on the glacier sheet covering Antartica, perhaps because the ice thickness is very great and no land exists close to the surface.
Dirt Cone definition:
An elevated formation of ice on the surface of a glacier in the shape of a cone, covered by a layer of soil or other sediment